Remember those
ugly wreaths
?
Well I changed them up a bit:
Yes, I flocked those suckers...and yes if you read my
previous post
, you'll know I'm not a fan of flocking.
But I had these cans of flocking sitting around and I just decided to go for it.
No clue how they are going to weather.
But for six bucks worth of decorations, a can of flocking and 12 yr old artificial wreaths it'll work for at least this season.
Not sure if there is any real improvement...
The kids sure like them though.
They keep asking when they can eat the candy canes...
I think they just like my exasperated reply: "You can't eat plastic"
I need to remind them that Santa really does keep a naughty list!
shared on: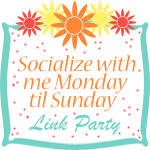 And all the other great linky parties found on the right side of this blog-->